Multi-company activity and reporting is a common requirement for companies looking at new business management solutions.
Luckily, this is an area where Sage X3 really does start to shine. A truly global solution, Sage X3 not only features multi-company capabilities but it also handles multiple languages and legislations. All your data is held in one solution and can be reported on at multiple levels, so you not only gain an insight into how one business unit is performing but insights into how your company as a whole could be working more efficiently.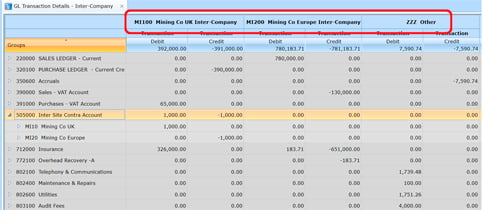 You can include or exclude inter-company dimensions in SEI.  Here, ZZZ denotes the default single-company option
So, how exactly does Sage X3 consolidate Inter-Company accounts?
And how do we produce our company-wide reports in order to see where we could be working more productively?
When it comes to Consolidation Reporting the setup is all-important.  Consolidation (and we'll look at Aggregation versus Elimination in a moment) assumes that you're using a common reporting structure, that it's possible to take any companies within a group and report them all in the same way. To that end, Sage X3 does allow you to set up your companies using different charts of accounts, but to then have a common ledger used by the group, so that you can map each company's Trial Balance into what is effectively a Consolidation Chart of Accounts.
But what of Aggregation and Elimination? 
Reporting codes attached to individual accounts or account ranges allow you to decide which accounts should be reported under which categories. You can also specify whether certain accounts, such as inter-company suspense, should be included or excluded within a Consolidation reporting pack. Sage X3 also has a number of ways of identifying the activities and transactions themselves, such as by the type of transaction or the resulting General Ledger journal code. 
Increasingly, though, we're seeing Analytical Dimensions being the best way forward here, with generic values identifying regular, single company transactions and company-specific values being used to indicate that a transaction with a particular other company is taking place. As the dimensions on a journal can be checked and if necessary amended before final posting, this does allow you to ensure that your postings have been accurately analysed before you run reports. You can then consider a scenario where you might want to analyse inter-company including specific companies, or possibly exclude inter-company activity altogether, by filtering certain dimension values in or out.
SEI
As well as the many enquiries, standard and custom reports available in Sage X3 itself, a flexible business intelligence tool such as Sage Enterprise Intelligence (SEI), can be used to include or exclude the companies, accounts and/ or transactions that you need. Once you have your reports set up, say for monthly sales figures, SEI then allows you to automatically email out these real-time reports to your colleagues (watch our video on how to do this here).
You can specify who these reports go to and how frequently, but in the example above, every month your sales team would automatically receive an email from SEI with the updated sales figures. Straight from SEI itself, all without any manual input. No need for each individual to be spending time updating their own sales figures spreadsheets, just a real-time, sparkly, report delivered straight to everyone's inbox, every month. 
Find out more: