We talked to Viral to find out what he enjoys about being a Consultant and why he chose to work for Mysoft.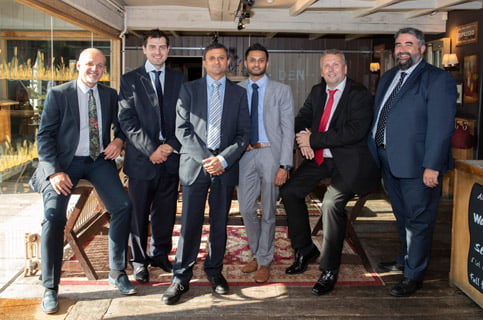 The Mysoft Consultancy team, Viral is standing fourth from the left
Why Mysoft?
Viral has been with Mysoft for 4 years working in the Consultancy and Support departments. Before he joined the Support department, Viral had worked closely with Mysoft through his previous role so the decision to join the team was an easy one. Mysoft appealed to Viral due to their depth of knowledgeable and experience with Sage Enterprise Management. As a Sage Enterprise Management focussed Partner, Viral saw in Mysoft the perfect place to progress, learn and develop his Sage Enterprise skills.
When asked why he chose to join Mysoft Viral comments, "I found the people at Mysoft were all friendly, helpful and welcoming which made the move easier. I split my time between Support and Consultancy which I enjoy as I have the balance of both and am involved in the full cycle of a project from implementation, through to supporting the customer once they've gone live."
Viral's Role at Mysoft
Viral has developed his career at Mysoft from joining as a Support Analyst to now being a Sage Enterprise Management Consultant. As a Consultant he is involved in the solution's implementation and also trains end-users to use the solution themselves.
When asked what he enjoys about his role Viral commented, "I like the variation of the different industries that I am able to work in, whether that's pharmaceutical, food or manufacturing and learning how these very different businesses operate. I enjoy having the opportunity to constantly meet different people and enable them to save time and increase efficiencies through Sage Enterprise Management. I'm grateful for the fun and friendly environment provided by Mysoft, there's always someone to brainstorm ideas with or simply have a coffee with."
Outside of Work
Outside of work, Viral is typically happiest when he is sat in front of the TV watching a movie or the football. When he's not in the office, you'll find him socialising with friends and family or pottering around the house doing odd bits of DIY. Viral also likes to keep fit so he visits the gym when time allows. He likes spicy food and his favourite is Thai closely followed by Mexican.
His favourite movie? "Hmm probably The Goonies, you can never get bored of watching it! It feels like you're on an adventure each time!"