It was great to welcome our customer base to The Elvetham in Fleet for the first of our 2019 bi-annual customer days.
The theme for the day was all around look to the future, what is in store for the future of finance departments and where Sage is heading with its future vision for Sage Business Cloud.
Prophix
The day kicked off with a really interesting presentation from our Partner, Prophix. Prophix is a budgeting and forecasting solution that works with Sage Enterprise Management to enhance its reporting and planning capabilities. James Hanson, VP Business Development at Prophix, spoke about the changing demographic of the modern day finance team and how important it is to keep up with the pace of change in the technology industry.
Find out more about Prophix.
Sage Business Cloud
We then welcomed Rob Sinfield, VP Sage Enterprise Management at Sage, to the stage presenting on the future business strategy for Sage Business Cloud and the new enhancements in the latest version of Sage Enterprise Management Version 12. Rob spoke about Sage's commitment to making the cloud work for their customers by providing a variety of options for their Sage Enterprise Management deployments. Rob also emphasised their commitment to the Partner and Developer ecosystem as key to their product direction and strategy.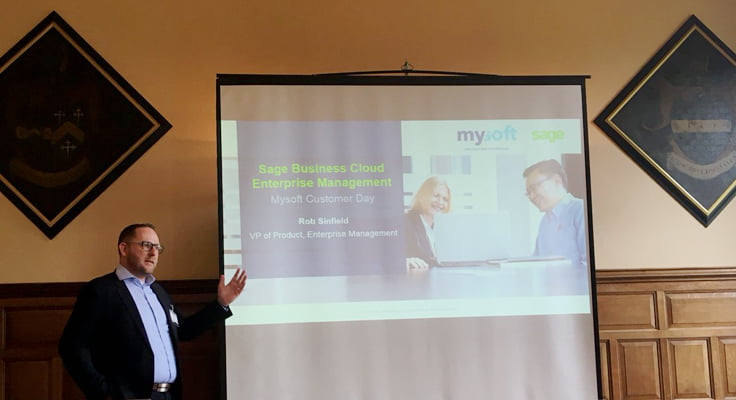 Customer Benefits
There was then plenty of time for lunch and networking, these events not only provide our customers with a chance to find out about new innovations in the market place but are also a great chance to chat with other Sage Enterprise Management users and system owners. Being able to talk to other users about their experiences and best practises with Sage Enterprise Management is often the key highlight for our customers, as well as the catering provided by The Elvetham…
Workshop Sessions
The afternoon session began with a demo of Sage Enterprise Management Version 12 from Mysoft's Solutions Consultant, Paul Mincer. The rest of the day was then carved out for more casual workshop sessions where attendees have the chance to move around different roundtables and ask our guests any further questions they may have. We also had a Support and Consultancy table set up so any general queries can be worked through with a Consultant and/ or a member of the Mysoft Support team.
The day was a great success with all customers that attended commenting on the real value that they took away from the event. Our next customer day will be held in November, keep an eye on the Mysoft Customer newsletter for the official announcement and sign up page, contact us now to sign up for the newsletter.
Find out more: