We rounded off 2019 nicely with our second bi-annual Customer Day.
We welcomed our customers to the Sage People Offices in Shinfield for a day themed around how to make the most out of their Sage X3 solutions.
The day kicked off with a short presentation from Jamie Watts to update our customer base on the recent developments at Mysoft and what we are looking to do as a business in the near future.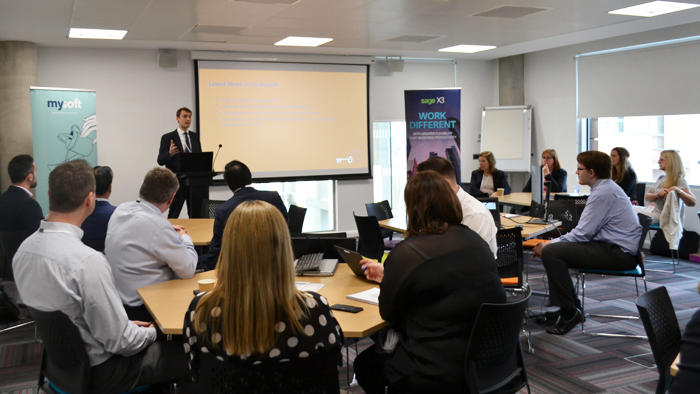 Lauren Kirton from Sage People was our guest speaker for the day. She gave an insightful presentation on the uses and benefits of implementing Sage People within an organisation. Sage People transforms the way you acquire, retain, manage and engage your employees, aiding HR departments in growing organisations. She showed a comprehensive demo to our guests, illustrating its time saving capabilities.
Over the past year we have collected feedback from our attendees which indicated that roundtable sessions run in small groups are the most enjoyable and beneficial. For this event, we organised 3 roundtable sessions throughout the day. There were 5 tables, each with a different topic, all based around how to make the most out of using Sage X3. The topics were Sage X3 Support, DMC Inbound, B2B E-Commerce (with Netalogue), Multi-ledger & Consultancy and Upgrades & Migrations.
Ben Taylor from our partner, Netalogue, ran an engaging roundtable on B2B E-Commerce. Netalogue is a leading solution for B2B ecommerce websites, used by manufacturers, distributors and wholesalers. The solution can significantly boost your company's online order volume and order processing efficiencies, by seamlessly linking with a company's Sage X3 solution.  
Find out more about Netalogue here
With regular breaks and a stream of tea, coffee, sandwiches and cake, there was plenty of time for networking between all parties. Our events provide our customers with the opportunity to talk openly with us about anything they wish to as well as being able to speak to other Sage X3 users about their experiences. This, coupled with the discussions and information gathered from the roundtable sessions, made for an all-round valuable and enjoyable day for our customers, Partners and members of the Mysoft team.
Look out for our next event that will be run in March 2020, we announce all the details and dates in our monthly customer newsletter, contact us now to sign up for the list!
Find out more: