Who is it For?
Suppliers of major supermarkets and retailers who will only trade with customers via EDI
What Will You Gain?
Considerably reduced admin time and real-time anomaly notification, minimising manual data errors
Where Will You Find Me?
EDI consistently updates in the background, automatically pulling orders into Sage X3, with a workbench to manage the exceptions.
More Details:
Integrate your EDI Sales Orders, Sales Invoices and Sales Credits perfectly with Sage X3. The interface provides the automated Import/Export of data from standard EDI document templates. This Plugin is particularly useful for companies that trade with major supermarkets and high street outlets, and who often require this type of technology to be a trading partner.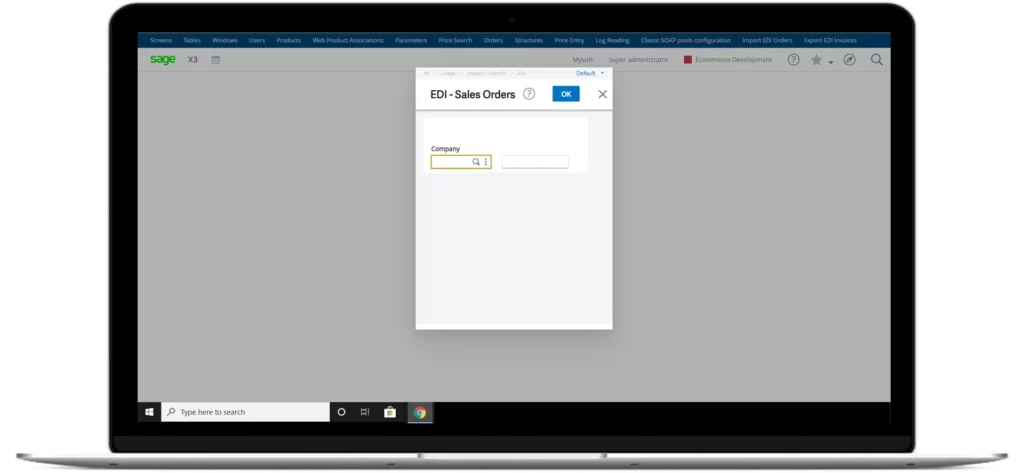 Sales Orders received via the OpenText Freeway, automatically get converted into a format that Sage X3 understands, pre-populating the relevant fields in the solution. This happens automatically with no manual input needed. For your business, this means a higher level of efficiency and a reduction in the amount of work-hours required to manually enter orders. The automation of data entry also saves user errors being made.
Once an order has been invoiced, the EDI export files are automatically generated.
The Plugin also features an event viewer function which logs all EDI interface activity. An improvement from Sage X3 as standard where a user is expected to browse through log files to find any exceptions.
A workflow notification can be triggered if an error occurs in the process. An email will automatically be sent out to the appropriate employee, therefore, avoiding issues being missed and allowing for problems to be remedied promptly.
The impact of implementing EDI is huge in terms of the potential time savings. It is also essential for businesses aiming to grow within the larger retail sphere in order to keep up with the technology of their peers; driving efficiency, business velocity, and managing by exception.
You might also be interested in: