Sage 50 users will be aware of its powerful accounting functionality that is designed for emerging businesses.
Users can easily manage cash flow and invoicing as well as making use of a host of other strong financial features.
With Sage you can expect reliable, accurate and secure financial management.
As your business grows from an emerging business into a medium-sized organisation, you will need a solution that can grow with you to match your high-level requirements. Perhaps you are expanding your product range, increasing your employee count or you are growing from a domestic company to a global operation. It is important to ensure that your business software can handle this expansion – an area where Sage X3 comes into its own.
Capacity
With growth comes an increase in resources and a higher volume of historical data to store. Sage 50 was designed originally as a single user system. It has supported you in the past however, the system can become slow and you may need to clear system history on a regular basis to avoid corruption.
With Sage X3 you can have up to 2000 users, making it highly scalable and ideal for a business that has aspirations to grow and needs scalability to suit. There is much more flexibility when it comes to storing data too. Sage X3 gives you the option to choose from industry standard databases, supporting large data volumes which are also aligned with your wider infrastructure strategy.
Unlike Sage 50 or other Sage products, Sage X3 doesn't have an 'end point' as such. The solution will continue to expand and scale just as your business does. Where other solutions may limit your growth, Sage X3 pushes your business forward, thriving in a complex business environment and encouraging success.
Multi-Site and Multi-Territory Operations
As mentioned previously, your growing and successful business might have plans to expand to other territories. As a Sage 50 user you will already be familiar with the legislative landscape of the UK, however, if you propose to start subsidiaries in other countries you need one product that is available in those languages as well as your domestic one.
Sage X3 offers multi-company, multi-location, multi-site, multi-currency and multi-language all as standard. These capabilities are one of the key reasons that businesses migrate over to Sage X3 from another product. This flexibility means that each entity can be set up in its own format but users are still able to view the whole company from a single point of access.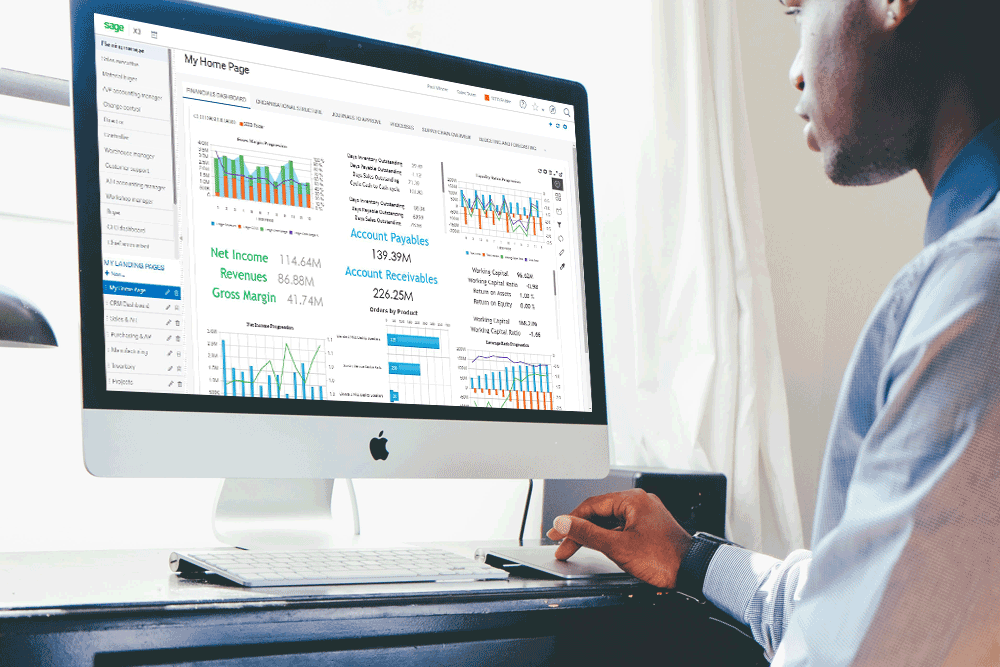 Data Visibility
You need your software to be working alongside your business processes: linking data, customers and finances together; streamlining your processes; sharing one view of your data across all departments and increasing the visibility of pricing and quotations, supply chain and stock management; and invoices and payments.
Carving up the information to suit your internal functions or using a variety of add-on software, rather than focussing on the needs of your customers, is no longer best practice in today's business environment.
Sage X3 offers a single, shared view of your data helping your business work more efficiently and effectively across different areas of your organisation. You can use the solution to create insightful intercompany reports as well as eliminating hours of number crunching through its intercompany transaction functionality, all of which will aid your company's growth. Read in-depth about Sage X3's intercompany functionality here.
Further Sage X3 data visibility functionality:
Complete view of your customers – ensure the prices you quote are in line with the pricing services available, applying the appropriate discount and bundled components
Keep your customers informed – check that stock is available for an order so you can keep your customers updated on progress, across different sites and countries
Accurately invoice your customers and chase debtors
Support & customisation – local support and industry-specific expertise available
An integrated CRM module that comes as standard
Why Sage X3?
Sage X3 is a system that has sophisticated functionality ideal for medium to large corporations that have a road map to expand. The built-in functionality makes it a safer option for growing businesses, rather than using multiple add-ons alongside Sage 50 to achieve the result. The vast amount of ERP features that come as standard with Sage X3, as well as the opportunities it has to develop this further and create a bespoke solution, make it perfect for growing multi-site and multi-territory businesses.
If you're using Sage 50 and you're ready for the next step, contact us today!