At the Sage FY20 Partner kick-off session, Mysoft were announced as the Sage Excellence Partner of the Year, 2019.
This award was delivered by Sage in recognition of Mysoft's sales success and experience in delivering Sage X3.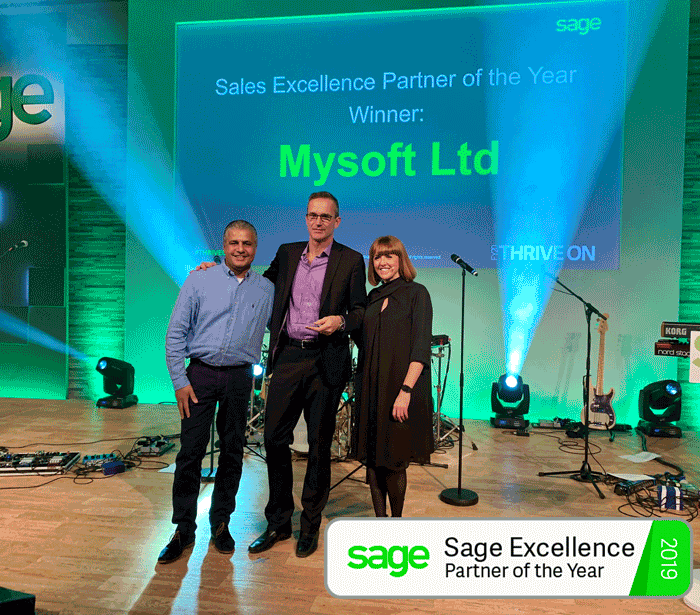 Mysoft's Managing Director, Chris Schafer, collects the award from Sage MD, Sabby Gill and comedian Cally Beaton.
The first day of the Sage Partner Kick-Off FY20 rounded off with a great evening of laughter, good food, wonderful company and a successful Sage Awards Ceremony.
Four members of the Mysoft team attended the event, experiencing an insightful day of learning and networking with other fellow partners, and a breadth of Sage employees.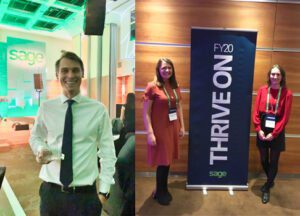 Jamie with Mysoft's Sage Partner Award andthe Mysoft Marketing Team
The day consisted of an introduction from Sabby Gill, Sage MD for UK & Ireland where he spoke about the importance of a customer-first strategy. Industry experts, each bringing their own set of specialist skills, led the afternoon with a choice of sessions each tailored to different departments within a partner organisation.
The founder of Love + London, Jessica Dante, gave an enlightening presentation about 'How to use YouTube to Grow your Business'. Her personable nature and extensive amount of industry experience made the session enjoyable to listen to and the marketing team came away with some golden nuggets of knowledge!
Nicholas Cox, the Head of Event Production for The Manufacturer, gave a talk on Sage X3 Industry Viewpoints in Manufacturing. He spoke in depth about the challenges faced by the manufacturing industry today and how technology can help to increase efficiencies, while automation and smart factory technologies will be key to increasing productivity levels. Nicholas's widespread knowledge in the area shone through, making for a very interesting and topical presentation.
The most poignant part of the day for Mysoft happened during the Awards Ceremony. During the second half of the awards, an award for Sales Excellence Partner of the Year was announced. Unbeknown to Mysoft, they had been nominated. Could this be their moment?
"And the winner is… Mysoft Ltd!"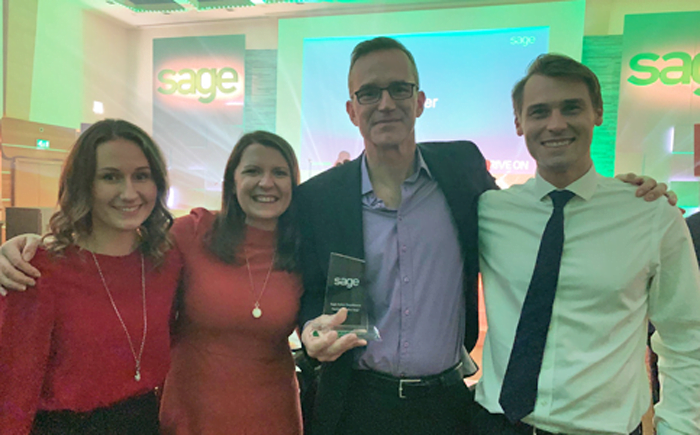 The Mysoft Team with their Sage Partner Award
The faces of the Mysoft team transformed into smiling shock, as they looked back and forth at one another, eyes wide. Managing Director, Chris Schafer, took to the stage on behalf of Mysoft to collect the award from Sage UK Managing Director, Sabby Gill. As always, Chris was cool, calm and collected in front of the room full of applause. The award is a great recognition of the team's hard work over the past year and expert knowledge of Sage X3.
The team are very thankful to Sage for presenting Mysoft with the Sales Excellence Partner of the Year award. The event was not only a great way to network and learn, but also a time where Mysoft could show support for the Sage team and other partners that share the same roots and values. An all-round enjoyable and successful FY20 Kick-Off! #ThriveOn