Who is it For?
Businesses that use third party carrier services to deliver their products and are looking to optimise the sales to shipping process.
What Will You Gain?
Reduced admin time and improved efficiency in processing and delivering orders to customers.
Where Will You Find Me?
The Carrier Interface sits neatly within the shipment module in Sage X3.
More Details:
Warehouse operations spend valuable business time re-keying shipment information to be able to process orders with external carrier services. This re-keying is both inefficient and introduces an opportunity for data-entry errors. Mysoft's Carrier Interface removes the need for warehouse staff to manually copy basic shipping information from their Sage X3 solution into the carrier system.
The Carrier Interface is used to set up a template that is configured to the carrier that a business is using, for example, DPD. The interface has been developed with a flexible template set up, which is essential as each carrier will require a different format of shipping information. This Plugin is particularly useful for businesses using more than one carrier service.
Once set up, the templates can be automatically populated with all relevant customer information that has previously been entered into Sage X3. Efficient communication from the warehouse to the carrier means that the customer's order is completed in a fraction of the time and with reduced shipping errors.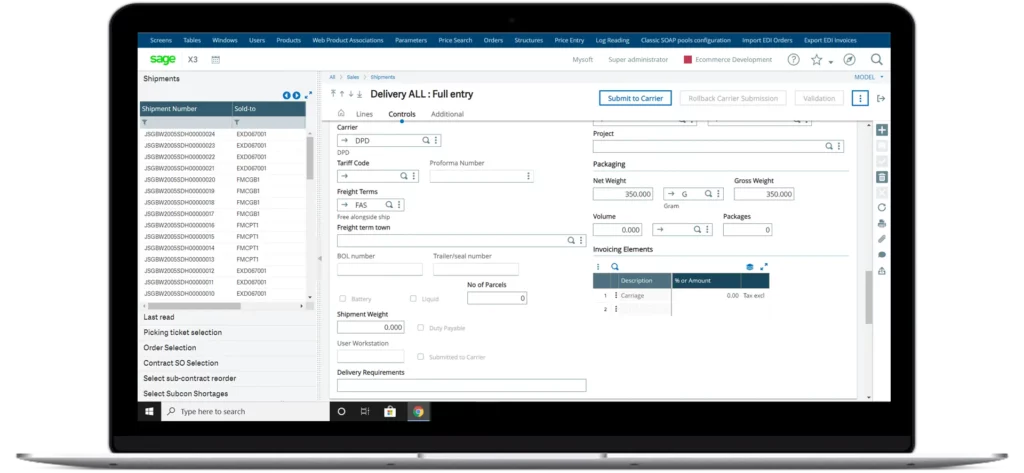 The Plugin enables a business to seamlessly process orders from the sales department, through the warehouse team, and out to an external carrier service with minimal manual input.  The automation of basic admin jobs throughout sales and shipment operations can save considerable amounts of time, as well as improving the accuracy and efficiency of the data that is received by the carrier.
Other key features include:
Label generation upon submission of the order from Sage X3
The option to include a service code to illustrate to the carrier which type of service is required, for example, next day delivery
Automatically updated tracking numbers in Sage X3, enabling a business to track the order to the customer
You might also be interested in: